Replace Atlas Chalet Roof Shingles in Atlanta, GA
"What you need to know"
Damaged Atlas Chalet shingles CANNOT BE REPAIRED. Since Atlas Chalet shingles are no longer made and are no longer available to buy, your insurance company must allow a full roof replacement if storm damage has occurred.
The Atlas Roofing Corporation stopped manufacturing the Chalet Shingle in 2010.
CLICK HERE to read announcement from Atlas Roofing Corporation
AtlantaRoofing.Com will meet with your insurance company to show them the storm damage found during our first inspection with you. Once AtlantaRoofing.Com gets your roof approved for a FULL roof replacement,we will then work in line with the Replacement Cost Value as shown in the estimate from your insurance company. At that time, you will select a GAF Timberline HD (lifetime/architectural) shingle color and then AtlantaRoofing.Com will start the job with "NO DOWN PAYMENT".
Thank you for considering AtlantaRoofing.Com. To schedule your FREE roof inspection give us a call at 770-256-3444.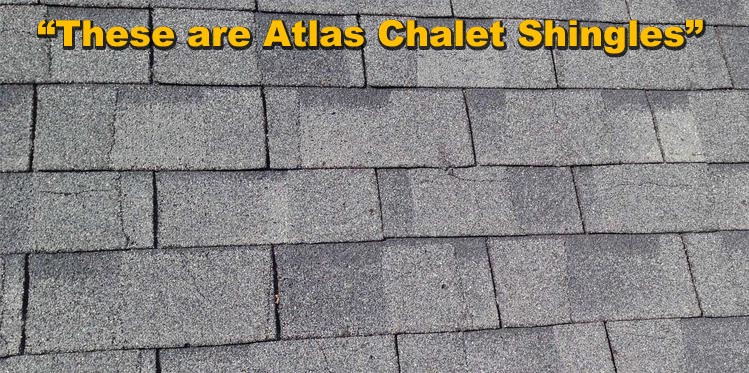 Do your shingles look like these? If you are still unsure, call us today for a FREE inspection at 770-256-3444.
AtlantaRoofing.Com – Atlanta's 1st Choice in Roofing Contractors
AtlantaRoofing.Com has built our unmatchable reputation over the 35+ years with superior customer service along with quality workmanship. We receive no payment until our work is fully completed.
Years of hard work along with dedication to our customers – wanting them to have "peace of mind" knowing the job was done right the first time, has helped earn AtlantaRoofing.Com an A+ rating with the Better Business Bureau. We are also a BBB accredited business.
If your last roof inspection has been a while or there is existing damage, please call AtlantaRoofing.Com today at 770-256-3444 to schedule your free roof inspection.
Our mission is to deliver quality services that will exceed our customer's expectations.